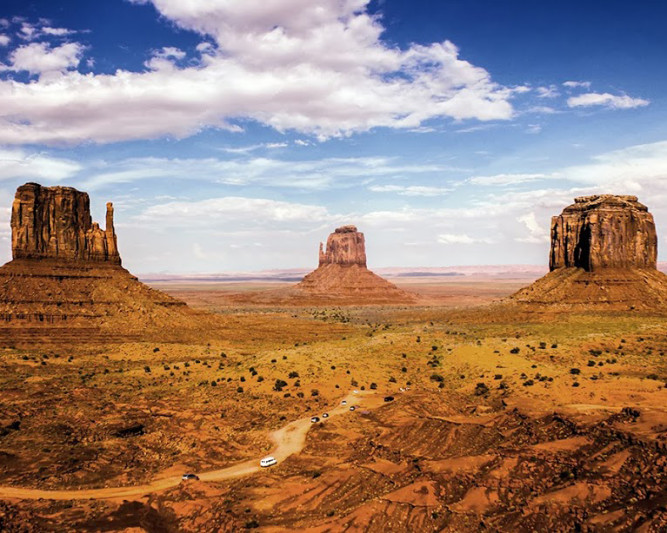 MADE FAMOUS BY HOLLYWOOD, THESE CLASSIC SOUTHWESTERN VIEWS ARE AMONG THE MOST ICONIC IN SOUTHWEST AMERICA.
Found deep in the Navajo Nation along the Arizona and Utah borders is a cluster of sharp sandstone buttes forming what's known as Monument Valley. Considered one of the most famous views of the whole Southwest USA, Monument Valley is a beautiful, remote stretch of iconic desert landscape that must be seen in your lifetime.
GETTING THERE
Located in the heart of the Navajo Nation, Monument Valley is convenient to many more great destinations in the Southwest. If you plan your trip accordingly, you can see some great sights before or after your tour of Monument Valley.
WHERE IS MONUMENT VALLEY?
The entire region covers parts of southeastern Utah and Northeastern Arizona, however, the official Navajo Tribal Park is located in Arizona off Highway 163. If you're coming from the south, take Highway 191 north from the I-40. You'll pass Canyon de Chelly in Chinle, Arizona. Continue north into Utah until Highway 163. Take this route west for the most scenic views into the park. Continue on Highway 163 until the park entrance at Monument Valley Road, where you'll cross back into Arizona. Park signs will guide you.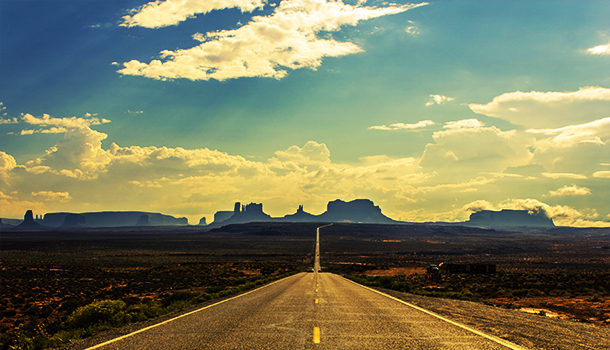 WHAT'S NEARBY MONUMENT VALLEY?
Beyond the serenity of sweeping desert landscapes and these classic Southwest photo ops, there aren't many other attractions in this remote area of the desert. Some relatively close sights are worth checking out on your way into or out of the park:
Canyon de Chelly, Arizona – 95 mi. SE
Four Corners Monument – 100 mi. NE
Antelope Canyon, Arizona – 125 mi. NW
Mesa Verde, Colorado – 135 mi. NW
Grand Canyon, Arizona (South Rim) – 175 mi. SW
WHERE TO STAY
There is no town near Monument Valley, but there is the renowned Monument Valley hotel and several camping options available to you.
MONUMENT VALLEY HOTELS
The only hotel located within Monument Valley boundaries is The View hotel. You can find it right beside the Visitor Center inside the park. All hotel rooms face east, towards the monuments, for an outstanding view for each and every guest. Rooms average between $100-300 depending on the season, and they fill up fast.
MONUMENT VALLEY CAMPING
There are campsites in the area, but as of 2013 they're reportedly closed through December. A nearby offsite campground at Goulding's Lodge & Campground is a great alternative. For $26 per night you can rent a tent site with amenities such as indoor pool, free hot showers, and laundry. The campground is elevated, situated between sandstone formations with a peek-a-boo view of Monument Valley.
WHAT TO DO IN MONUMENT VALLEY
Mostly a haven for photographers and those who appreciate the sights of the Southwest, in Monument Valley you have just a few options to occupy your time.
CHECK OUT THE VISITOR CENTER
When you enter the park, you'll arrive at the large, modern visitor center with incredible views of the valley. The parking lot offers another classic view of the "mittens" made famous by Hollywood. Have a look around, snap some pictures, and be sure to check out some of the historical artifacts in the visitor center. Then hop back in your car and take the scenic drive through the monuments.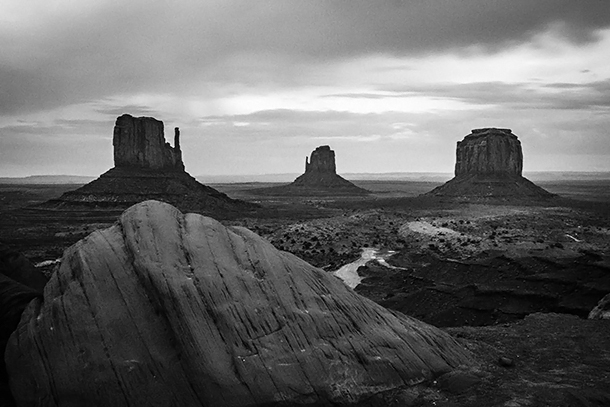 TAKE A SCENIC DRIVE
Prepare yourself for incredible views on this 17-mile drive. Be sure to get a map from the park entrance booth to help guide you, and have your camera ready. These are some of the most iconic shots in the Southwest USA.
HIKE DOWN TO THE MONUMENTS
There is one self-guided hike down into the monuments called the Wildcat Trail. Originating behind the visitor's center, this hike takes you 3.2 miles down and around the West Mitten Butte. At an elevation of 5,400 ft, this may take you up to two hours. Bring plenty of water and of course, leave no trace.
HOURS & ENTRANCE FEES
It's important to note that your National Park Pass will not be accepted in Monument Valley. This park is independently owned by the Navajo people, so there is a separate fee.
Visitor Center Hours
Peak Season (May 1 – Sept 30) 6:00AM – 8:00PM, 7 Days a week
Off Season (Oct 1 – Apr 30) until 8:00AM – 5:00PM, 7 Days a week
Thanksgiving Day – 8:00AM – NOON
New Years Day – CLOSED
Christmas Day – CLOSED
Scenic Drive Hours
Peak Season (May 1-Sept 30) 6:00AM – 8:30PM
Off Season (Oct – Apr) 8:00AM – 4:30PM
Entrance Fees
$5 per person, per day (Children 9 and younger free)
National Park and Golden Eagle passes NOT accepted
Credit to HILLARY FOX, from http://www.southwestusatravel.com
Please contact us for removal if there is any copyright infringement.